The North Korean women's football team have walked off the pitch at their Olympic match in Glasgow after their images were shown on a screen beside a South Korean flag.
Kick-off was scheduled for 19:45 BST. The game started over an hour late.
North Korea are playing Colombia in the second of the Olympic matches being held at Glasgow's Hampden stadium.
Games organisers in London have apologised to North Korean officials for the mistake.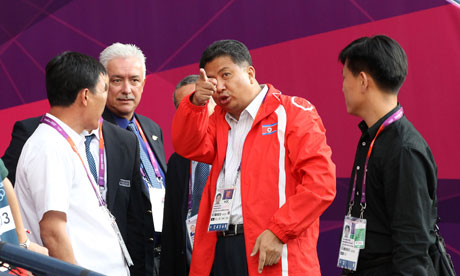 The error occurred when a video package was being shown ahead of kick-off, with the North Koreans noticing that their faces were being pictured alongside the South Korean flag.
Relations between the two Koreas have been tense since the armistice which brought an end to fighting in the Korean War in 1953.
South Korea will face North Korea in the first round of the men's Olympic table tennis team event after the pair were drawn against each other on Wednesday.
A statement released by London 2012 organisers said: "Today ahead of the women's football match at Hampden Park, the South Korean flag was shown on a big screen video package instead of the North Korean flag.
"Clearly that is a mistake, we will apologise to the team and the National Olympic Committee and steps will be taken to ensure this does not happen again."